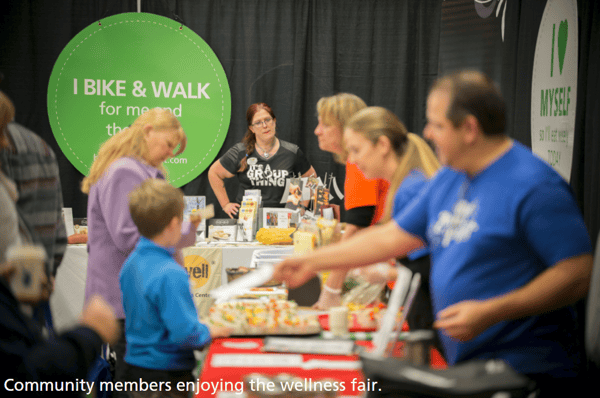 "Using secrets discovered in the original Blue Zones—rare longevity hotspots around the world—we help transform communities into thriving places to live, work, eat, and play."  Blue Zones Project
Blue Zones Project–Grants Pass started the new year with a free and family-friendly public Kickoff celebration.
Held at Grants Pass High School on January 20th, the Kickoff attracted more than 600 community members who spent their afternoon exploring ways to be healthier and happier, and learning how to help improve the well-being of their community.
The upbeat Kickoff featured demonstrations by Club Northwest of tai chi, yoga, and aerobics, as well as a rousing performance by the Grants Pass High School Jazz Band.  Attendees enjoyed a wellness fair featuring local well-being organizations and resources.
A highlight of the event was a panel discussion hosted by Dr. Robin Miller, well-known author and KOBI-TV health expert. The panel featured Peggy Maguire, president of Blue Zones Project leadership funder, Cambia Health Foundation, and Sarah Foster, executive director of Oregon Healthiest State, a Blue Zones Project partner.
At the heart of the Kickoff was a keynote presentation by Nick Buettner, one of the original Blue Zones researchers and current Blue Zones community and corporate program director. After discussing the lifestyles and secrets of people living in the original Blue Zones around the globe, Buettner asked the crowd to make a personal commitment to their own and their community's well-being. Nearly 300 people signed the pledge to make healthy lifestyle changes in their own lives.
"Community leaders and volunteers have worked hard over the last few months to develop our strategic plan and this Kickoff event is the official launch of Blue Zones Project in our community. We hope individuals and families will join us to learn and experience how we can all live longer, better lives," said Diana Hoover, Blues Zones Project community program manager. "By focusing on helping change the settings where people spend most of their time we can make healthy choices easier, and we can make Grants Pass an even better place to live, work, learn, pray, and play."
Blue Zones Kickoff events follow the expansion of a community well-being transformation strategy led by Oregon Healthiest State, an initiative focused on supporting communities in building a culture of health. Blue Zones Project was brought to Oregon by Cambia Health Foundation in support of Oregon Healthiest State. Community champions Asante Health System, AllCare Health, Primary Health of Josephine County, and Siskiyou Community Health Center are providing support for the Grants Pass initiative. Office space is being donated by Club Northwest.
"Our vision is for Oregon to be the healthiest state in the nation" Sarah Foster of Oregon Healthiest State told the audience. "To do this we have partnered with Blue Zones Project to create opportunities for lasting well-being transformation. It is so inspiring to see the Grant Pass initiative move from planning to implementation, especially knowing how much local thinking and leadership is guiding the work. The Kickoff celebration is an exciting milestone in the life of the initiative and I am greatly looking forward to it."

Diane Hoover
Before serving for six years at the Josephine County Health Department, Hoover spent 26 years in the United States Navy Medical Service Corps.  Her role, as Community Program Manager for the Blue Zones Project, will be to direct the execution of the initiative; to work directly with advocates, leaders, and volunteers; and to help drive policy priorities set by the community.
George Prokop
Having previously launched programs and services worldwide while working for Hewlett-Packard for 30 years, Prokop brings a broad set of experiences to the team. He will be responsible for planning, executing, and finalizing projects while ensuring that programs stay aligned with Blue Zones Project strategies.
Cort Cox
Cox joins the Grants Pass Blue Zones team after two years with the Blue Zones Project—Klamath Falls initiative. Cox is passionate about working closely with the community to create positive individual change.  His role will focus on driving communication efforts for the initiative while managing activities to inspire people to engage with Blue Zones Project practices and resources.

Denise Kalic
With more than 20 years of experience in sales and business development, most recently with Harry & David and Lithia Motors, Kalic will be working directly with organizations across the region including grocery stores, schools, and worksites, helping them create settings that encourage improved well-being for the people they serve.
A COMMUNITY-WIDE APPROACH TO WELL-BEING
We don't just rely on individual behavior change. We improve community health by making permanent and semi-permanent changes on multiple levels. We improve or optimize city streets (smoking policies, bike lanes, sidewalks), public spaces (parks, lakes, walking paths), schools (cafeterias, safe walking paths to school), restaurants, grocery stores, employers, faith-based organizations, and community involvement.
EFFECTIVE . IMPACTFUL . SUSTAINABLE .